Oxford Woman Shares 3-Year-Long Weight-Loss Journey with the World
By Alyssa Schnugg
Staff writer
[email protected]
For the third time, people from all over the world watched Oxford resident Dottie Potts share the good and bad of her three-year-long weight-loss journey during an episode of "My 600 Pound Life: Where are they now?" that aired last week on TLC.
Potts first appeared on the show in February 2016. She appeared on national television again on May 10, 2017, on a "Where are they now?" follow-up show, and again for a third time on Wednesday, July 25.
Potts started her journey weighing 641 pounds. Today, she's down to 295 pounds.
The first show focused on Potts taking the beginning steps to lose weight while caring for her two children – Daniel, 13, who had severe cerebral palsy, and Landon, who was 2 at the time. She had gastric sleeve surgery in January 2016.
Three months after the first show aired, Daniel died. The second show focused on the loss of her son and her struggle to continue with her weight-loss program after his death. After realizing she needed help to get her mind healthy in order to get her body healthy, she sought help from a therapist.
Potts eventually returned to Texas, where the show is based and where her physician, Dr. Younan Nowzaradan is located. The doctor decided to do surgery again and do a complete gastric by-pass on May 10, 2017. A gastric bypass is a surgical procedure in which the stomach is divided into a small upper pouch and a much larger lower "remnant" pouch and then the small intestine is rearranged to connect to both.
After losing almost 300 pounds, Potts found herself in a great deal of pain due to the excess amount of hanging skin.
Last week's episode showed Potts' determination to reach the goal Nowzaradan set for her before she could have the first of four necessary operations to remove the excess skin.
Finally, on April 23 of this year, she had the first surgery that removed 30 pounds of skin from her stomach and abdomen. She will need three more surgeries to remove the skin from her backside and hips, her arms and then her legs.
Potts spent two weeks in the Texas hospital and then in a hotel close by. That's where Wednesday's episodes ended.
However, an infection set in and Potts went back to the hospital. Once stabilized, she spent a month at a rehabilitation home in Texas where she felt isolated and alone and only wished to return home to her son and her husband, Chris.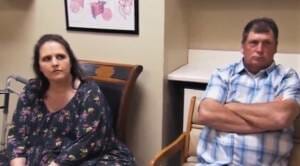 Potts was able to come home on June 23, however, she has to wear a wound vac while the incision on her abdomen heals.
"It's very frustrating because I can't do much right now," she said. "I can't really exercise because the wound has to stay clean."
She is hoping she can remove the wound vac in another month's time.
While she's struggled with the aftermath of the skin removal, she's determined to move forward with the remaining three needed surgeries.
"I'm going to make sure I'm in better shape for the next one," she said. "There was still a lot of fat when I got this first surgery and I think that's why it became infected."
As soon as she is able, Potts said she's going back to the gym to continue her workouts.
"Even if I just walk," she said. "Some type of exercise will be better than nothing."
Potts said she's often stopped by people who recognize her from the show and is glad her story has encouraged others.
Potts said while nothing has been announced officially, she feels certain there will be a fourth follow-up show eventually.
In the meantime, she plans on continuing to eat healthier, working out and attending school in January to become a veterinarian technician.
"I'm ready to get on with my life," she said. "I've got a lot to look forward to."
---