Aditya and Gayatri's simple fitness story is inspiring people to eat and live healthy.
Aditya and Gayatri Sharma before and after their weight loss journey. Photographs: Kind courtesy Aditya Sharma
Tucked away in the quiet bylanes of Sirohi, a village in Jodhpur, Rajasthan is a power couple India now looks up to.
Ever since Aditya (41) and Gayatri Sharma's (32) fitness story was covered in the national media, their phones haven't stopped ringing.
While Aditya lost 20 kilos and went from 72 to 52 kg in a year, his wife Gayatri lost 10 kilos dropping from 62 to 52 kilos.
"No fad diets. Only right eating and exercise," Aditya tells Rediff.com about his secret.
Today, the couple is inspiring youngsters to eat and live healthy.
Who are they?
Aditya is a full time government employee who works in the education department.
Along with his wife Gayatri, who is also a certified nutrition coach like him, the duo run Sparta, a fitness care centre in Sirohi.
"Through our Facebook and social media, we have reached out to over 4,000 people from over India in the last two years. When people ask us questions, we help them make informed choices on what to eat and how to workout," Aditya said.
The couple's aim is to raise maximum awareness on healthy living.
They have two children — a son aged 14 and daughter who is 9.
Inspiration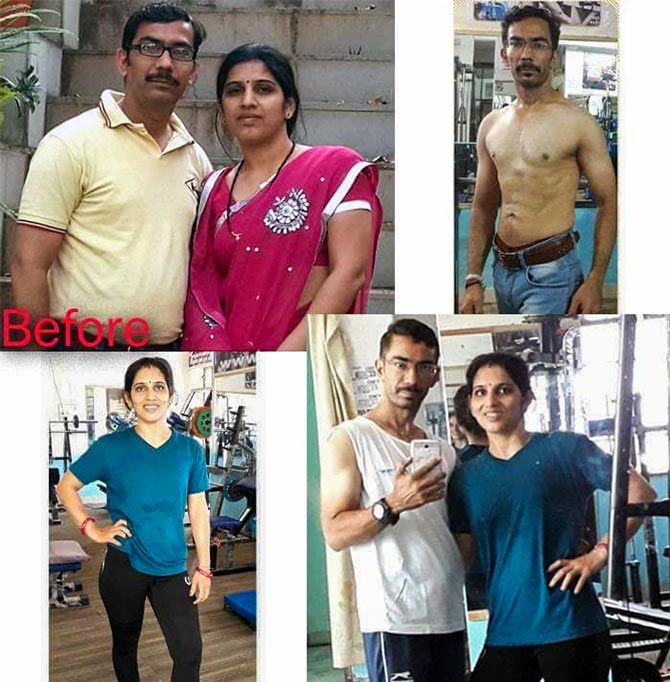 After losing weight, the duo is currently undergoing weight training to build muscles.
Two years ago, in 2016, the much married couple had a moment of realisation.
"My daughter casually said, papa aap kitne mote ho gaye ho (father, you look so fat)."
"I wasn't obese. But my family had a history of Type 2 diabetes. I didn't want to take a chance and decided to give importance to staying fit," says the 41-year-old, who also encouraged his wife to join his quest for fitness.
Aditya began his weight loss journey in January 2016 and after trying a lot of fad diets, approached Pune-based Squats, a wellness centre.
With the help of a trainer and nutritionist, Aditya lost 18 kilos in three months.
The following six months, he worked on building his muscles. Simultaneously, the couple signed up for a three-level course (basic, intermediate and advanced) on diet and nutrition.
In November 2016, the Sharmas launched Sparta and since then there's been no looking back.
"On an average, we have 50 to 60 students who visit the fitness centre currently. Thanks to social media, we get requests from people who live in different parts of India."
Weight loss: Myths and secrets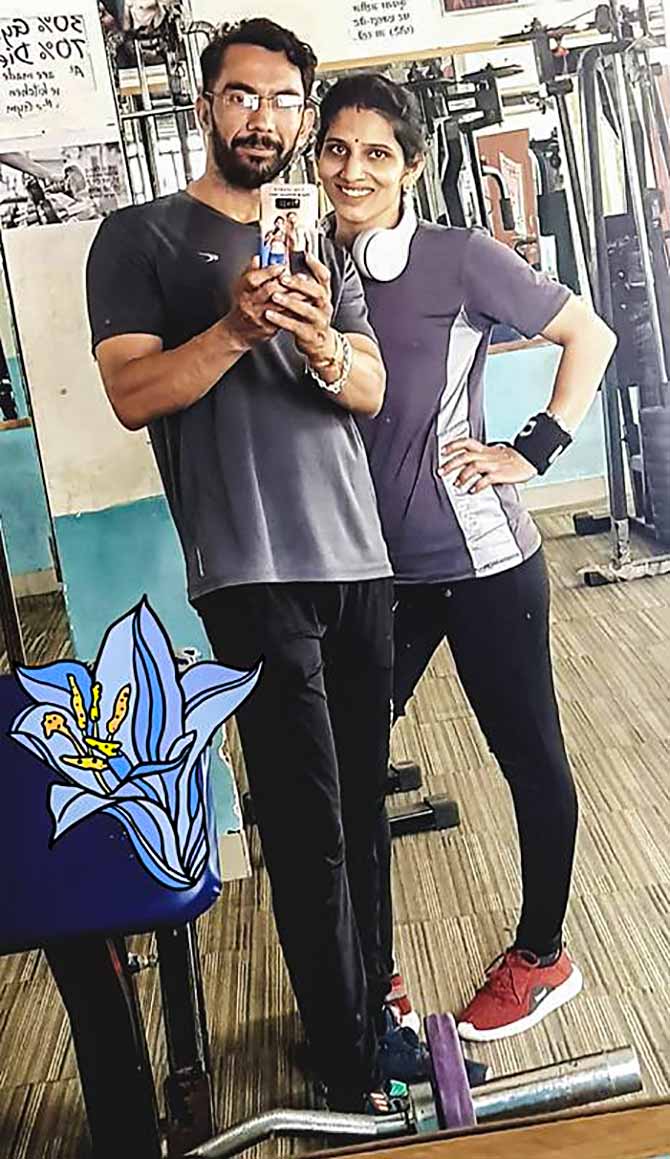 Don't they look adorable and inspiring at the same time?
According to Aditya, people mistake weight loss and fat with diet.
Following fads like keto diet, he says, can do more harm than good.
"Most people mistake weight loss with cutting down on carbs and fat. You cannot achieve fat loss by just dieting. By dieting, you will lose fat, but what about muscles?"
Weight loss, Aditya said, is a combination of cardio, dieting and weight training.
"Calories matter, not the food you intake," he said.
People also mistake the importance of weight training for women, he says. When his wife lost weight and posted pictures of her weight training, people mocked her.
"People said 'she looks so thin, why is she lifting so much weight?' What they don't realise is that the more muscles you build, the less fat you store."
Tips for readers
Want a fit bod like them? Twelve weeks is all you need.
"If you can't go to a gym, you can work out at home. Set aside thirty minutes every day. Walk, do squats, any cardio activity that burns calories."
Your diet should include carbohydrates and proteins. As far as possible, try and go for natural source of proteins like rajma, soya.
Non vegetarians, he says can have eggs for protein. "We try and urge people to have desi ghee, paneer or cheese. If there is a deficit, they can have whey protein or supplements."
In his parting advice to readers, Aditya urges readers to stay positive.
"Don't care about what people say about your body. Focus on your body and talk to people who understand the importance of fitness. Stay positive and use all your energy to motivate yourself to stay fit and healthy."
---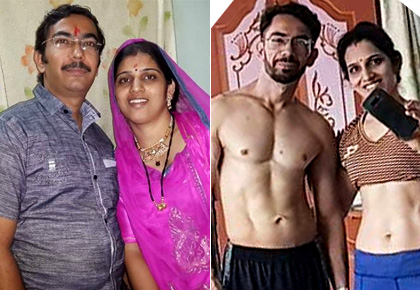 Reader Invite
Have you recently lost weight? We want you to share your weight loss story with us.
Share your detailed diet plan, tips and advice with our readers.
Write in to getahead@rediff.co.in (subject line: 'Fat to Fit'), with a before and after photograph, if possible, and we'll feature the best entries right here!