Weight Loss Success Stories: Kelly Lost 50 Pounds And Loves Her Newfound Confidence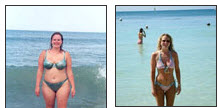 Before: "I Love My Newfound Confidence!"
A 26-year-old newlywed, Kelly Ruch had the body confidence to wear a bikini, but she knew she was no fitness guru.
After having two kids, Kelly decided to join a health club in 2005 to be more active. She now exercises six days a week and avoids snacking too often. In three years, she maintained her weight loss of 50 pounds and went from a size 12/14 to a size 0/2.
After
Now, Kelly wears her bikini with extra confidence. "I love life now and even my children love to exercise with me!" said Kelly
Source: fitnessmagazine

Transformation Tuesday Videos!
Republished by Blog Post Promoter