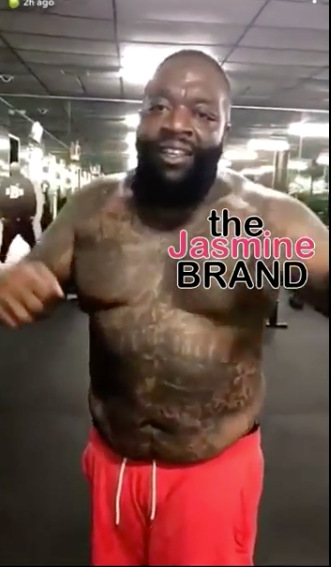 Rick Ross Shows Off His Weight Loss – I Have A Two-Pack! [VIDEO]
Rick Rosshas never been shy about showing off his body. The 42-year-old rapper recently took to Snapchat to give his fans a look at his slimmer figure. Wearing red shorts and workout shoes, Rick shows off his new svelte body. See the clip below.
Over the past few years, he's had issues with his health. Back in 2011, he suffered two seizures within six hours of each other during a plane ride. And just as recent as March 2, 2018, Ross was hospitalized after being found unresponsive in his Miami, Florida, home from a possible heart attack. It was reported, but denied by his team, that he was on life support.
He's spoken openly about his health admitting that he once weighed 350 pounds, slept for just three hours a night and enjoyed 24 oz steaks has lost of over 100 pounds.
During an interview with Men's Health back in 2016 he credited his weight loss to adjusting his diet and exercising.
I'm happy. I'm still losing weight, and now I'm starting to build hard muscle in places.
Kudos to Rick!